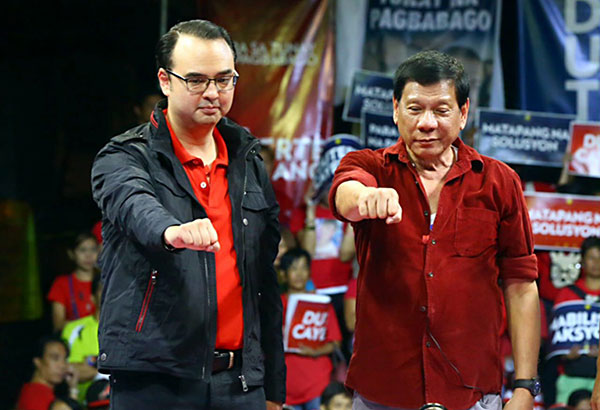 DAVAO CITY—The recent controversial statements of President-elect Rodrigo Duterte are just part of his strategy, said Sen. Alan Peter Cayetano, Duterte's running mate in the elections.
"He is a master of strategy in sparking discussions and finding solutions afterwards," Cayetano told
INQUIRER.net
in an exclusive interview here on Sunday.
Duterte has received heavy criticisms for his recent statements on media killings and catcalling a lady reporter during a press briefing.
"It's not because you're a journalist you're exempted from assassination if you're a son of a b****," Duterte has said.
The statement sparked outrage from media and human rights group but Cayetano said that was said on purpose "to provoke discussion."
"I think 'yung mga sinabi niya like sa media, I think that was on purpose," Cayetano said.
"I think he really wanted a discussion on how to reform the media," he added.
During the campaign period, Duterte said he'd rather lose the elections than lose his identity.
"People fell in love with Rodrigo Roa Duterte (with) the way he does things," Cayetano said.
Despite the love-hate relationship with Duterte, Cayetano said the media should continue to do their role.
"We have to play our role. Like media, don't back down," he said.